Recreation and Culture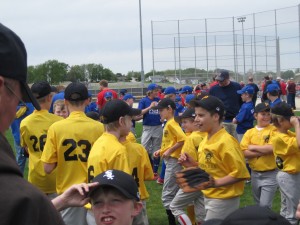 Parks give Morrison residents and visitors room to play. In Morrison's parks you can run, skate, bike, play baseball or softball, soccer, football, basketball, sled, hike, garden, walk or just sit, think, watch, relax…
The latest addition to Morrison's park system is a large recreational complex located on East Route 30 with baseball fields, a football field, sledding hill, playground area, and a .5 mile walking path.
Located on the south side of Morrison on West Winfield Street, Waterworks Park has 12.4 acres and offers a baseball diamond, sand volleyball courts, tennis courts, a playground, sledding, dog park, and a picnic area.
For the non-traditionalists, there is the professionally designed 9-hole Frisbee Golf Course at Kelly Park.  This park has 3.4 acres and is located adjacent to Grove Hill Cemetery, just off of East High Street.  Tennis courts, a playground, a walking path, and a picnic area can also be found at Kelly Park.
Kiwanis Park, located on North Genesee Street, is 1/2 acre with playground equipment, picnic area, and Rolle Bolle court.  It is also the home of the annual Easter Egg Hunt, sponsored by the Kiwanis of Morrison.
Looking for a great walking path for a physical workout or to view nature? Then French Creek Park is for you! Set amongst prairie grasses and the French Creek, this park offers a year-round .84 mile walking path, soccer fields, a playground, a picnic area, and a community garden.
The Morrison Rockwood Recreation Trail is the newest addition to the Morrison trail system and the Whiteside County Greenways and Trails.  The scenic trail provides a safe passage for walkers, bikers, and snowmobilers between the City of Morrison and the entrance to Morrison-Rockwood Park.
The Veteran's Park and Memorial, located on East High Street by Grove Hill Cemetery, provides a tranquil spot to consider the sacrifices made by Morrison area veterans. The park includes a Howitzer field artillery piece, which spurred the parks initial growth, and tablets inscribed with the names of deceased Morrison area veterans, along with their date of death, burial place, and the war in which they served.
The City of Morrison offers a summer recreation program that has supervised activities for children and during the school year, has soccer and basketball leagues available.  Other sports programs for children include T-ball, Little League and senior league baseball, girls softball, Pop Warner and Junior Tackle football, volleyball, youth wrestling club, and Seahorse Swimming Club.
Morrison has a variety of recreational opportunities for its residents including golf, bowling, motocross, practice cages, self-defense, fitness, yoga,  swimming, archery, hunting, model airplanes, dancing, theater, and table tennis.
Morrison Rockwood State Park is open all year and located five minutes north of town. It offers over 1,100 acres of camping, fishing, horseback riding, hiking, boating, and hunting in specified seasons. Nature trails offer the opportunity to view wildlife and over 150 species of birds. And, Lake Carlton is 78-acres of great fishing!
The Mississippi River is 11 miles away offering boating ramps, docks, and several nature areas to watch bald eagles fly and heron walk through the water on stilt-like legs.