Healthcare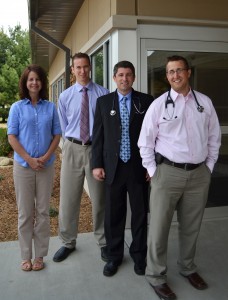 Morrison residents enjoy an abundance of quality, professional healthcare, without having to leave town!
Three fully staffed clinics, dentists, optometrists, chiropractors, and physical therapists provide a full complement of medical and health services for the community.  The Morrison Community Hospital offers physician coverage, ambulance service, patient transfer helipad, and a skilled care unit.   A regional network of hospitals in nearby Sterling, Illinois and Clinton, Iowa provide additional, outstanding medical care and services.
Three fully licensed long-term care units are also available, offering physical therapy and activity programs.
Area Hospitals

100 E. LeFevre Road

Sterling, Illinois 61081

(815) 625-0400

1410 N. 4th St.

638 S. Bluff Blvd.

Clinton, Iowa 52732

(563) 244-5555

303 N. Jackson Street

Morrison, Illinois 61270

(815) 772-4003

Medical Clinics

CGH Morrison Health & Vision Center


105 S. Heaton Street

Morrison, Illinois 61270

(815) 772-8100

303 N. Jackson Street

Morrison, Illinois 61270

(815) 772-5511

635 E. Lincolnway

Morrison, Illinois 61270

(815) 772-7491

Pharmacy

Fitzgerald's Pharmacy

124 E. Main Street

Morrison, Illinois 61270

(815) 772-3415

Chiropractor 

Health Matters

303 N. Jackson Street

Morrison, IL 61270

(815) 589-4616

(815) 772-7641

Miller Health LLC

406 N. Madison Street

Morrison, Illinois 61270

(815) 772-7114

Scott Chiropractic Clinics PC

500 N. Madison St.

Morrison, IL 61270

(815) 772-9000

Dental

William Simpson DDS

521 W. Wall Street

Morrison, IL 61270

(815) 772-2512

200 E. Main Street

Morrison, Illinois 61270

(815) 772-2811                                  

Assisted Living

Resthave Retirement & Nursing Home

408 Maple Avenue

Morrison, IL 61270

(815) 772-4021

403 Scenic Street

Morrison, IL 61270

(815) 772-4031

Long-Term Care

Pleasant View Rehabilitation & Health Care Center

500 N. Jackson Street

Morrison, Illinois 61270

(815) 772-7288

Resthave Retirement & Nursing Home

408 Maple Avenue

Morrison, IL 61270

(815) 772-4021

Optometry

CGH Morrison Health & Vision Center

105 S. Heaton

Morrison, IL 61270

(815) 772-8100

626 E. Lincolnway

Morrison, IL 61270

(815) 772-7455

Physical Therapy

635 E. Lincolnway

Morrison, Illinois 61270

(815) 772-7274

303 N. Jackson Street

Morrison, Illinois 61270

(815) 772-4003